Hi, I'm Melissa Chavez.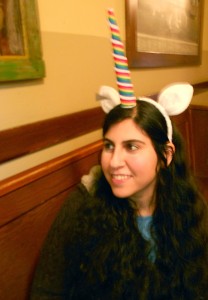 I do a lot. It's sometimes hard to explain just how many projects I've been a part of over the last few years, but I'm mostly known for being a community organizer, event mananger, digital media specialist, content strategist, UX designer, project manager, and editor/journalist in Portland, OR.
I've been working with Taqueria Los Gorditos Co. for years, running their communications strategy, helping them open restaurants in the Pearl District and North Portland, and adding more content to their site. I've most recently been a project manager for them, working on improving the business infrastructure, overseeing building upgrades, and leading a website overhaul. I've loved this family-owned restaurant business since it was just a single food truck, and have been designing their menus since 2007.
I love art. I was heavily influenced by typography and gang graffiti growing up, and have been documenting street art for quite a few years. I spoke about the intersection of art and public space at WhereCamp PDX 2013, and have been using MapBox (and editing Portland Wiki and Open Street Maps) to pinpoint locations of some of the beautiful pieces Portland has to offer.
I joined the planning team of the 4-day, 6-track open source technology conference Open Source Bridge in 2010, and have helped run it ever since, serving as head of logistics and communications over the years.
Through OSBridge, I got involved with the nonprofit Stumptown Syndicate, where I helped promote its technology-focused mission, with an emphasis on community building and education. Until recently, I was on the board of Stumptown Syndicate, where I did communications and diversity outreach for the events the Syndicate puts on each year: Ignite Portland, BarCamp Portland, WhereCamp Portland, and Open Source Bridge.
Because I often miss producing hard news, I like getting together with journalism and developer colleagues when I get the chance, and have been co-running the Portland chapter of HacksHackers to help facilitate more collaboration between the groups.
When not doing all the above, I'm maintaining my sanity through creating art and reading as much as I can. Check out my hire me page to see more examples of what I can do for your business, and visit my work page to see some of the digital media projects I've done while helping plan a few big Portland events. Ok, so sometimes I don't sleep much.